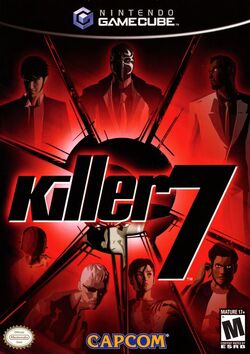 This article is a list of all staff members credited for the development of the video game killer7 in the first credit roll.
Dwight Schultz – voice of Harman Smith
Greg Eagles – voice of Garcian Smith
Michael Gough – voice of Dan Smith
Tara Strong – voice of KAEDE Smith
Jun Hee Lee – voice of Con Smith
Miguel Cabellero – voice of MASK de Smith
Benito Martinez – voice of Coyote Smith
Heidi Anderson – voice of Samantha Sitbon
Bart Flynn – voice of Christopher Mills
Jim Ward – voice of Toru Fukushima
James Horan – voice of Jean DePaul
Robin Atkin Downes – voice of Hiro Kasai
Cam Clark – voice of Andrei Ulmeyda
Chris Cox – voice of Gabriel Clemence
Alistair Duncan – voice of Curtis Blackburn
Masayo Hosono – voice of Ayame Blackburn (Mausu Promotion)
Debi Derry Berry – voice of Love Wilcox
Jennifer Hale – voice of Linda Vermilion
Kris Zimmerman Salter – voice of Punk Kid C
Jack Angel – voice of narrator
Steve Blum – voice of Kenjiro Matsuoka
Joe Lala – voice of Kun Lan
Game Part Crew
Edit
Takashi Miyamoto – designer
Eisin Sasaki – designer (NewFrontierStudio)
Kumihiko Watanabe – designer (wa' s works)
Tadayuki Nomaru – designer
Takumi Miyake – character design
3D Animation Unit
Edit
Studio "Dynamo"
Edit
Hiroshi Hirokawa – motion capture studio manager
Nobuyoshi Ono – motion capture tracking supervisor
Ken Ueno – motion capture operator and animator
Keisuke Maruyama – motion capture operator and animator
Saika Aoki – motion capture suits and markers
3D Real-time Event Animation Crew Animation Unit
Edit
Futoshi Nagata – storyboard artist
ORBITAL LINK Inc.
Edit
Hideaki Sakado – director
Seiichi Tanabi – motion capture director
Isao Matsuda – designer
Issei Tokuda – designer
Tomoatsu Godai – designer
Masayasu Yokose – designer
Shinya Tazaki – designer
Kenzi Kumagai – designer
Kaori Takahashi – designer
Syunsuke Uematsu – designer
3D Modeling Unit
Edit
Digital Zero
Edit
Takashi Kuwatani – chief designer
Hiroyoshi Osawa – designer
Souju Inaoka – designer
Naoki Hamada – designer
Motion Capture Crew
Edit
Masashi Imanaka – operator
Henji Hata – actor (Rescures)
Emi Sugimoto – actor
Kentaro Shimazu – actor
Ryoji Okamoto – actor
Akio Maeda – actor
Ichiro Hada – actor
Mutsumi Kawamukai – actor
Shinya Shiota – actor
Hidenori Takei – additional "game motion"
Mitsue Nagasaki – additional "game motion"
3DCGI Crew
Edit
G-style – computer graphics movie
Animation Movie Crew
Edit
"Sunset", "Alter Ego"
Edit
Nobuyoshi Habara – director
Hideyuki Motohashi – animation design, graphs director
Xebec M2 – original drawing, finish, special effects, animation
Futoshi Onami – original drawing
Yoshinori Tokiya – original drawing
Keito Watanabe – art director, background
Klas – background
Keita Suzuki – background
Kazuo Kobayashi – background
Toshihide Kawana – background
Tomoko Sasaki – background
Minako Yamada – background
Yuri Takagi – background
Syuko Okutani – animation test
Miyuki Shimizu – Xebec M2
Taeko Satomi – Xebec M2
Shinko Tsurumoto – Xebec M2
Hiroko Kaneda – Xebec M2
Tayako Mitsuwaka – Xebec M2
Xebec CG – shooting
Junichi Ito – editing
Jay Film – editing
Iwamamica – color scheme and specification
Mariko Kawai – finish test
Yuko Fukuda – finish
Hideaki Sakurai – special effects
Masaaki Ishikawa – mastering
J-Force – mastering
Junki Honma – 3D
Reina Morooka – product progress
Taku Kobayashi – product progress
Xebec – animation
"Cloudman"
Edit
Digital Frontier Inc.
Edit
Yusaku Toyoshima – CG producer
Naomi Ikoma – production manager
A unit9 production
Edit
Ben Hibon – director, character design, backgrounds, compositing, scene animation
Piero Frescobaldi – producer
Roland Edwards – lead character animation
Jimeno Farfan-Gomez – lead character animation
Alex Jenkins – lead character animation
Joao de Abreu Dias Pires – character animation
Dominik Binegger – character animation
Laurie – character animation
J. Proud – character animation
Nick Tanner – visual effects
Sound Crew
Edit
Soundelux Design Music Group – voice over
Amanda Wyatt – voice over business manager
Jacquie Shriver – voice over coordinator
Kris Zimmerman Salter – voice over director
Elliot Anders – voice over engineer
Justin Langley – production assistant
Hiroyuki Hamada – coordinator (T's music)
Kozy Tominaga – engineer (T's music)
Symphony No. 41 in C, K. 551 "Jupiter"
Edit
Wolfgang Amadeus Mozart – composer
"Gymnopedie#1"
Edit
Erik Satie – composer
Masafumi Takada – piano
"Greensleeves"
Edit
Capcom Staff
Edit
Akihiro Shimamori – development assistance
Hideki Shiojiri – development assistance
Naohiro Yamada – development assistance
Sigeki Kobayashi – legal affairs
Atsushi Nishino – legal affairs
Kazuhiko Inaba – legal affairs
Takayuki Sano – product management
Kohei Kubota – product management
Kunio Funahara – product management
Yoshiaki Iwasa – customer support
Yuji Ito – marketing
Tsutomu Masuda – advertising
Shigemi Komatsu – QA leader
Ryosuke Hagiwara – publicity
Takayoshi Terada – publicity
Takashi Kitahara – character rights
Tetsuya Ohno – character rights
Taiki Enomoto – character rights
Special Thanks
Edit
Katsuyoshi Fukamachi
Tatsushi Fujita
Smokey's Gun Factory
Ox Kanto
Arms magazine
Nobuhiko Sagara
Masahi Ooka
Sako Kato
Hiroshi Nakaya
Chizuko Ono
Yukari Suwabe
Naoko Fuji
James Williamson – motion design
Aki Ohta – background model designer
Community content is available under
CC-BY-SA
unless otherwise noted.