Pure White Lover Bizarre Jelly (純白の恋人 ビザールジェリー, Junpaku no Koibito Bizāru Jerī) is a fictional anime series in the video game No More Heroes. It is a magical girl mecha franchise which centers around three schoolgirls who fight monstrous beings, primarily using a giant mecha called Glastonbury and its individual, perfectly autonomous units.
It also has a sequel series, known as Bizarre Jelly 5.
Characters
[
]
Story
[
]
Episode 1
[
]
One day on her way back from school, the plain and quiet Ichigo Beniyama finds herself being confessed to by the school's most popular boy, Jishū Heiankyō. This places her in mortal danger as the jealous wrath of all the school's girls begin. In the following days, the girls at school give Beniyama trouble, culminating with her being called behind the school one afternoon. Here she is greeted by a mob of angry girls who intend to either cripple or kill her, but luckily, two girls come to her rescue: student council president ICHIGO Aota and treasurer secretary Ichiko Kigawa. With a quick and precise explanation, they are able to save Beniyama from being lynched.
Episode 2
[
]
One particular student who could not get over her jealousy of Beniyama, Hisako Kokkai, conspires to kill Beniyama. Taking her giant living weapon, Kokkai attacks the entire school. However, from within a glowing radiance emerges a legendary white giant.
Production
[
]
While the anime does not exist in reality, its appearances in No More Heroes imply that it is a commercially successful series in that universe. Travis Touchdown, the game's main protagonist, is a big fan of the anime and owns dozens of pieces of Pure White Lover Bizarre Jelly merchandise. His motel room contains several obvious examples of action figures, pillows, clocks, soundtracks, stickers, a calendar, a poster, and even a video game. Travis can also obtain a number of official clothing from the series, sporting such designs as the likenesses of the three main characters and even of their individual Glaston units. A limited edition pink and white-toned jacket, pants and belt set also sell high to merchandise collectors.
Future real-life adaption
[
]
In a March 15, 2008 interview with Computer and Video Games, Goichi Suda revealed that a possible real-life anime adaption of the series would be produced in the future, saying, "As you may know, our publisher, Marvelous, actually does a lot of animation work, so it's something that has been discussed. We were actually in discussions to do something with the Bizarre Jelly characters as seen on Travis' shirt, but I have no idea how serious they were. Hey, tell your readers if they want to see it, write in and give them the feedback. There's every chance it could get made."
An animated title sequence of the sequel Bizarre Jelly 5, can be watched in Travis' room in No More Heroes 2: Desperate Struggle.
Pure White Giant Glastonbury
[
]
The anime's exact relationship with Pure White Giant Glastonbury is not clear, as it is not obvious as to what Pure White Giant Glastonbury actually is. Although it is featured as a game within the No More Heroes world, T-shirts 84, 88 and 89, which together depict the three Glastons, carry descriptions that describe Pure White Giant Glastonbury as an anime. This would imply a separate anime to Pure White Lover Bizarre Jelly in which the same mechas feature; and that the eponymous game is a spin-off of the anime, or vice versa.
If this is the case, then it is not made known which anime was produced first nor how their narratives are interconnected. Considering the relatively retro appearance of the game, it may be tentatively deduced that Glastonbury was produced some time ago as a mecha anime, and Bizarre Jelly was created as a new series based on the saga with magical girl themes.
Trivia
[
]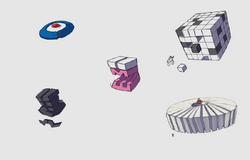 References
[
]
External links
[
]