Frog Minutes is a video game developed by Grasshopper Manufacture for the Apple iPhone. Proceeds from downloads sales of the game go towards disaster relief for the 2011 Japanese earthquake.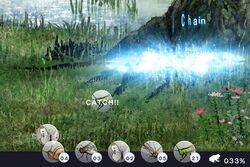 The game is a simple, open-ended experience that tasks the player with hunting down various insects, including grasshoppers, and then feeding them to ambient frogs. Once a frog is full, it can be caught, whereupon the player will be rewarded with trivia on that particular species. A female voice shouts encouragement from the sidelines as all of this is going on.
The game was first announced on March 28th, 2011. Further details were then revealed through a press conference and charity event held in Tokyo on Wednesday, March 30th; like previous Grasshopper events, this one was also broadcast live through uStream.
References
Community content is available under
CC-BY-SA
unless otherwise noted.