Diabolical Pitch is an action video game developed by Grasshopper Manufacture for Xbox Live Arcade's Kinect line of motion-sensing titles. The game was published by Microsoft Game Studios on April 4, 2012[1] for the price of $9.99.[2] Debuting under the title codename D at Tokyo Game Show 2010 with a vague live action trailer,[3] Diabolical Pitch pits Nigel McAllister against an army of evil forces within an amusement park, with baseball-themed defences such as bats and baseballs.
Development
[
]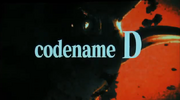 During a keynote speech at the Tokyo Game Show 2010, SUDA51 claimed the roots of codename D could be traced back to a meeting at the Tokyo Game Show 2009, where he met members of Microsoft who offered Grasshopper an opportunity to develop a Xbox 360 title supporting Kinect. SUDA51 pitched an idea which was accepted by the publishers, and "even though the contracting process after that wasn't very smooth," the deal was finalized and Grasshopper began development on codename D. SUDA51 professed that "Until Kinect, we were all making games while being bound to the controller," so the freedom offered by Kinect's lack of remote has allowed Grasshopper to continue developing unique material.
Kinect Bundle

[

]
Kinect Bundle is a video game compilation in which Diabolical Pitch appears, containing five complete games marketed for Kinect peripherals. In addition to Diabolical Pitch, the set also features Dragon's Lair, Wreckateer, Haunt and Home Run Stars. The compilation was released to Xbox Live Arcade on July 17, 2013 for the price of 800 Microsoft Points.
Diabolical Pitches
[
]
You can activate the

Cannon Ball

by holding out your dominant arm horizontally and holding your non-dominant arm to your chest. You can fire cannonballs by holding up one hand toward the screen and locking on to the target. You can fire several shots.
You can activate a

Liner Ball

by taking up the batting stance. You can launch a batting attack by swinging. If your timing is good, you can

hit back

the ball thrown by the doll.
You can activate the

Meteor Ball

by streching out both arms to your sides. You can pitch it by raising both arms up high. Maximum damage will be given if you throw it when the gauge is in the middle.
You can activate the

Twister Ball

by pulling both hands close to your chest. Push both hands out in front of you to release a Twister Ball. Maximum damage will be given if you throw it when the gauge is in the middle. You can move the Twister Ball by moving your outstretched arms to the right and left.
References
[
]