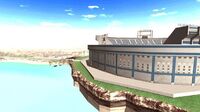 Destroy Stadium is a ballpark in the video game No More Heroes. It is located almost adjacent to the Santa Destroy Junction in Santa Destroy. Destroy Stadium is the home of the professional baseball team the Santa Destroy Warriors. It is also the preferred Extreme Murder Battle Stage for Ranking Battles against the ninth and second ranked assassins in the United Assassins Association, Dr. Peace and Bad Girl respectively (the latter who seems to be living in the stadium's basement).
Destroy Stadium is built on a hillside cliff which overlooks from the front the south side of Santa Destroy, and from the back the North Pacific Ocean. It is also located nearby the Santa Destroy Junction, the highway which provides access to and from the town. A parking lot scales the entire property around the stadium, although it always appears to be empty. Destroy Stadium's playing field is a grass surface which, at night is illuminated by several strobe lights. Indoors, the stadium is home to several booths. These are the Warriors merchandiser Crazy Baseball, a sweets stand called La Quebrada, the hot dish vendor Banya, an unnamed fast food booth, Hot Buster, Destroy Foods, Purple Elephant and Tag Team Taco Twins. The playing field contains advertisements for the companies Fudge, Luchaco, Stinkin' Beer, Tag Team Taco Twins, Tyrannomarket Rex and WGHM 86.6 FM.
The basement of the stadium is made up of a filthy concrete passageway which leads to a large room containing what appear to be batting cages. A conveyor mechanism is installed in the room, although its true purpose is unknown. This basement is home to a cosplaying psychopath known as Bad Girl, the second ranked assassin in the United Assassins Association, who uses this conveyor belt to deliver cloned men dressed in S&M gear to the room, where she bludgeons them with a baseball bat.
Santa Destroy Guide entryEdit
Main article: Santa Destroy Guide
The home field of the pride of Santa Destroy, the professional baseball team, the Santa Destroy Warriors. The only thing they lead the league in is violence towards fans.
Community content is available under
CC-BY-SA
unless otherwise noted.