Con Smith (コン・スミス, Kon Sumisu) is a character in the video game killer7. At the age of 14, he is the youngest persona of the Smith Syndicate, and has been blind since birth.
Con is originally recruited by Harman Smith, serving the Smith Syndicate with his agility and infiltration skills, however he along with the rest of the group is murdered by Emir Parkreiner at the Union Hotel. Parkreiner confronts Con in his second floor suite, where he fails to notice the intrusion and is quickly shot in the back of the head. The Smith Syndicate personae are assimilated into Parkreiner, who himself becomes a member of the group when it re-emerges. When Con returns, he does so with greatly enhanced hearing and speed capabilities, to compensate for his blindness. Con is killed once more by a Black Smile at Coburn Elementary School.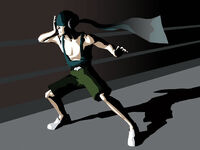 Appearance and personality
Edit
As the youngest member of the Smith Syndicate, Con is the shortest member of the group. He wears a red bandanna and oversized headphones over his ears. Interestingly, Con uses his feet to reload weapons more quickly. Con's childishness is emphasized at many points throughout killer7, such as his excitement when meeting the Handsome Men, and his general enthusiasm and overall disrespect for everyone (as well as being the foul-mouthed member of Killer7 besides Coyote Smith) around him, such as when he shouts "Fuck you!" upon making a successful critical hit.
Powers and abilities
Edit
Con Smith's main ability is super speed, which he can activate for a short time at the cost of Thin Blood.
Con, like MASK, has just three upgrades available to him.
| Upgrade | Category | Level | Description |
| --- | --- | --- | --- |
| Down Attack | Speed | 1 | Finish off a Heaven Smile crawling on the ground with this downward move. |
| Counter Attack | Criticals | 2 | When a Heaven Smile leaps towards you, press X Button to counter attack. |
| Critical Lock-On | Criticals | 4 | Automatically lock on to a Heaven Smile's vital organ with this scan. |
Official Website Description
Edit
Con Smith
The 5th assassin with super-hearing.
The blind boy Con has exceptional hearing that allows him to
visualize sounds. He also has an awesome rapid-fire ability.
Another nice attribute is his super running speed that if
he wanted could outrun almost any enemy. When he's asleep,
he's just an average child.
Nobody would suspect him of being an elite assassin.
---
Trigger Happy Con!

Con is the only one in the Smith Alliance with Dual Automatics.
He's number one when it comes to rapid fire speed.
"Yeah!" -- character selection screen
"Okay then!" -- character selection screen
"Laater! Peace!" -- character selection screen
"They are coming!"
Community content is available under
CC-BY-SA
unless otherwise noted.