Comic Beam is a seinen manga magazine published by Enterbrain in Japan. It began publication in 1995 and continues to this day. Comic Beam serializes alternative manga and does not have a high sales rate, and its audience primarily consists of enthusiasts of the manga medium as art.
Comic Beam serialized SUDA51 and Syuji Takeya's manga Kurayami Dance during 2015-2016. They have also serialized other manga by Takeya in the past.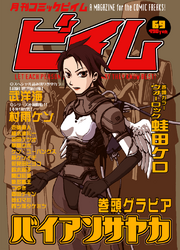 Comic Beam also exists in the world of The Silver Case, in which it promotes the idol Sayaka Baian. Akira finds an issue of Comic Beam in case#0:lunatics with a picture of Sayaka on the front; its presence serves as a clue to to one of the password locks in the Cauliflower building. The same issue is shown again in case#4:kamuidrome in the Sayaka Baian sequence.
In the 2016 version of the game, there is another issue of Comic Beam on the roof of the building. This time, it is a real issue, one which anachronistically features Kurayami Dance on the cover. Collecting both issues will earn the player an achievement.
Community content is available under
CC-BY-SA
unless otherwise noted.