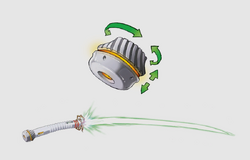 The Accelerator is an item in the video game No More Heroes. It is a sensor attachment designed by Dr. Naomi for beam katanas, which can be purchased from Naomi's Lab for LB$29,800 after ranking ninth in the United Assassins Association. When the Accelerator is attached to the grip of a beam katana, the presence of buried treasure will cause the Wii Remote to vibrate. If the player continues progressing in the direction of treasure, the Wii Remote will continue making faint vibrations, which grow stronger as treasure is approached. If the player moves away from treasure, the vibrations will grow softer or cease. The Accelerator makes the process of treasure hunting more convenient, and its name may reflect how much quicker the process can be with the component equipped.
The Accelerator appears on one trading card in the Design Materials set of No More Heroes, which is Trading Card No. 108.
The Accelerator's purpose may have been inspired by the Stone of Agony in the video game The Legend of Zelda: Ocarina of Time. This item also causes the controller to vibrate in the presence of buried secrets.
Community content is available under
CC-BY-SA
unless otherwise noted.