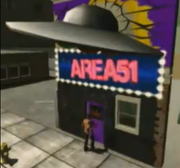 AREA 51[1] is an establishment in the video game No More Heroes. It is a retailer of apparel and accessories in Santa Destroy, and is run by Mask Do UH. As the game progresses, more items are put in stock including jeans, T-shirts, belts and sunglasses. Clothes bought from this store can later be accessed through the Closet option at Motel "NO MORE HEROES". During the gap between No More Heroes and No More Heroes 2: Desperate Struggle, AREA 51 is destroyed, although it is unclear how or why. In Desperate Struggle, Mask Do UH reemerges as the manager of Airport 51, which carries a wider variety of items than AREA 51.
References
Edit
↑ The Santa Destroy Guide makes an effort to capitalize the store's entire name, where most other locations use normal casing.
Community content is available under
CC-BY-SA
unless otherwise noted.